Vanadium is big news in the mining industry these days, specifically with respect to this metal's important role in the battery metals equation. To date, the bulk of investor attention has focused on the lithium-ion battery industry, a critical component of the Electric Vehicle Revolution.

Vanadium is a vital input with respect to the other side of the battery metals equation: energy storage. Energy storage is surging into prominence for two reasons.
The rise of the EV industry implies much greater demand for electrical power, along with significant spikes in demand corresponding with surges in EV traffic. Increased energy storage capacity is needed to deal with such spikes in electricity demand.
In addition, renewable energy sources have now come of age, becoming genuinely cost-competitive with conventional power generation. This means an explosion in growth for renewable energy sources such as wind and solar power. But such electricity generation is also uneven, spiking at certain times of day and dropping off to near-zero at other times. Without a vast increase in energy storage capacity, these renewable energy operations will not be able to capture (and store) excess power generated during peak supply periods.
Vanadium is a rare metal. This means that finding and developing primary deposits of vanadium is a challenging proposition for the mining industry. One Company that is stepping to the plate in the search for new sources of vanadium is BlueBird Battery Metals Inc. (TSX: V.BATT, OTCQB: BBBMF, Forum).
As its name implies, this is a junior mining company with a specific "battery metals" focus in its operations. BATT's principal mining operations are located in Western Australia. Australia is a major mining jurisdiction, ranking as a global leader in the production of several metals and minerals.
image: http://media.stockhouse.com/embed/bccgqf6zq4tphbmzka85r8db76/1/original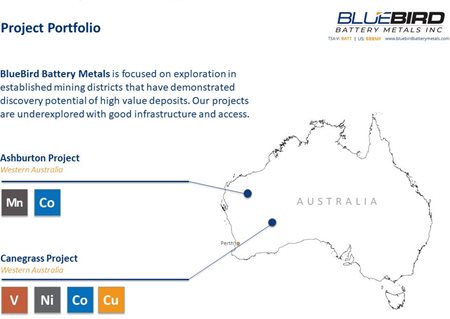 (click to enlarge)
BlueBird has two Australian projects (Ashburton and Canegrass), along with an early-stage project in the Yukon Territory. The Ashburton Project features manganese/cobalt mineralization, both necessary inputs in most lithium-ion battery chemistries. The Canegrass Project has two separate zones of mineralization in this 4,200 hectare land package.
Initial drilling on the property centered around the nickel/cobalt/copper mineralization found in one section of Canegrass. Nine out of 10 holes intersected mineralization, with a highlight of 13.0 meters grading at 0.9% Ni, 0.08% Co, and 0.6% Cu.
On October 23, 2018; BATT announced its first drilling results centered on the vanadium mineralization at Canegrass. Results were released from five drill holes, with the clear highlight being hole BBRC001.
102.00 meters @ 0.35% V

2

O

5

, including

 

8.00 meters @ 1.03% V

2

O

5
Gary Nassif, President of BlueBird put this news into context for investors.
"We are very pleased with the initial drill results from our vanadium target at Canegrass. The results suggest that there is potential to define a substantial, near-surface vanadium resource. Vanadium prices have seen strong upward momentum in the past year and long term fundamentals suggest there is potential for continued price appreciation, a result of vanadium's increasing use in battery technology. With over 4,500 metres of defined strike length along the same trend hosting our recent Ni-Cu-Co discoveries, we believe there are significant synergies that we can exploit while exploring the trend, reducing our exploration costs and increasing our potential resource growth as we can evaluate the magmatic nickel copper sulphide and vanadium potential simultaneously."
In addition to the significant interval of high-grade vanadium mineralization, the other key takeaway from hole BBRC001 is that mineralization begins at surface. Vanadium mineralization in the other four drill holes occurs near surface. As experienced mining investors know, this greatly enhances the commercial potential of such mineralization.
While the Company was pleased with its success in initial vanadium drilling, management was in no way surprised. Directly to the north of BATT's vanadium mineralization trend is Atlantic Vanadium's Windimurra Vanadium Mine. The most recent estimate for this bulk-tonnage resource is 235 million tonnes grading at 0.49% V2O5 (Measured & Indicated).
Historical work on the Canegrass property has also indicated the potential for vanadium mineralization. Previous rock chip samples have yielded several assays in excess of 1.0% V2O5.
As noted by BlueBird's President, the price of vanadium has been spiraling higher over the past two years. Since the beginning of 2016, prices have increased more than six-fold. Spot prices in Europe are currently at US$27.85/lb, with the spot price in China presently above US$31/lb.
BlueBird Battery Metals would have already attracted interest from mining investors with respect to its potential for nickel and cobalt (along with copper). With the new drill results at Canegrass confirming the potential for a commercially mineable vanadium deposit, BATT has just become a much more interesting battery metals prospect.
FULL DISCLOSURE: BlueBird Battery Metals is a paid client of Stockhouse Publishing.
Read more at http://www.stockhouse.com/news/newswire/2018/10/25/high-grade-vanadium-western-australia-drilling#4OvDBZhH2BKZYp7k.99