Thursday 10 March 2016 16.34 GMT
The last time the Earth saw such a sustained increase was over 11 millennia ago, says US science agency. Climate Home reports
Fossil fuel burning and a strong El Niño weather pattern pushed CO2 levels last year. Photograph: Greg Baker/AFP/Getty ImagesAlex Pashley for Climate Home, part of the Guardian Environment Network
Thursday 10 March 2016 16.34 GMTLast modified on Thursday 10 March 201617.16 GMT
Atmospheric concentrations of carbon dioxide last year rose by the biggest margin since records began, according to a US federal science agency.
Fossil fuel burning and a strong El Niño weather pattern pushed CO2 levels 3.05 parts per million (ppm) on a year earlier to 402.6 ppm, as measured at the Mauna Loa Observatory in Hawaii, the National Oceanic and Atmospheric Administration (Noaa) said on Wednesday.
"Carbon dioxide levels are increasing faster than they have in hundreds of thousands of years," said Pieter Tans, lead scientist at Noaa's Global Greenhouse Gas Reference Network. "It's explosive compared to natural processes."
The big jump in CO2 broke a record held since 1998, also a powerful El Niño year.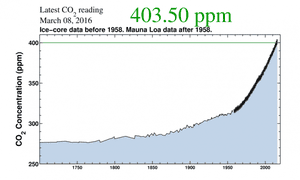 The Keeling curve. Photograph: credit: Scripps Institution of OceanographyDrought and erratic rainfall caused less carbon to be stored by parched forests and drylands, on top of the effect of fossil fuel emissions, Noaa said.
CO2 levels in the air have increased over 40% since 1880, as industry ramped up emissions. The build-up of those gases traps heat, which warm the planet and stoke extreme weather. Last year was the hottest year on record, according to multiple weather agencies.
The last time the Earth experienced such a sustained CO2 rise was between 11,000 and 17,000 years ago, in which period CO2 jumped by 80ppm. Today's rate is 200 times faster, said Tans.
Scientists at the remote Hawaii site have plotted global CO2 levels since 1958, in what is known as the Keeling Curve.
The information contained in this article and provided by VanadiumCorp is sourced from third-party content in the public domain and is for general information purposes only, with no representation, guarantees of completeness, warranty of any kind, express or implied regarding the accuracy, adequacy, validity, availability, completeness, usefulness or timeliness of any information contained within. Please also excuse any syntax as authors and reposted articles are sourced from global origins. UNDER NO CIRCUMSTANCE SHALL WE HAVE LIABILITY TO YOU FOR ANY LOSS OR DAMAGE OF ANY KIND INCURRED AS A RESULT OF THE USE OF THIS REPOSTED ARTICLE. THE USE OF THIS ARTICLE AND YOUR RELIANCE ON ANY INFORMATION CONTAINED HEREIN IS SOLELY AT YOUR OWN RISK. VANADIUMCORP ALSO ASSUMES NO RESPONSIBILITY OR LIABILITY FOR ANY ERRORS OR OMISSIONS IN THE CONTENT OF THIS ARTICLE.