European Union [18757453.8]
Canada [CA 3032329]
United States [16/322,642]
Australia [AU 2018225820]
India [201917004662]
South Africa [2019/00743]
Intellectual Property Rights
VanadiumCorp Resource Inc. and Electrochem Technologies & Materials Inc. own each 50% of the exclusive rights for the patented pending technology worldwide.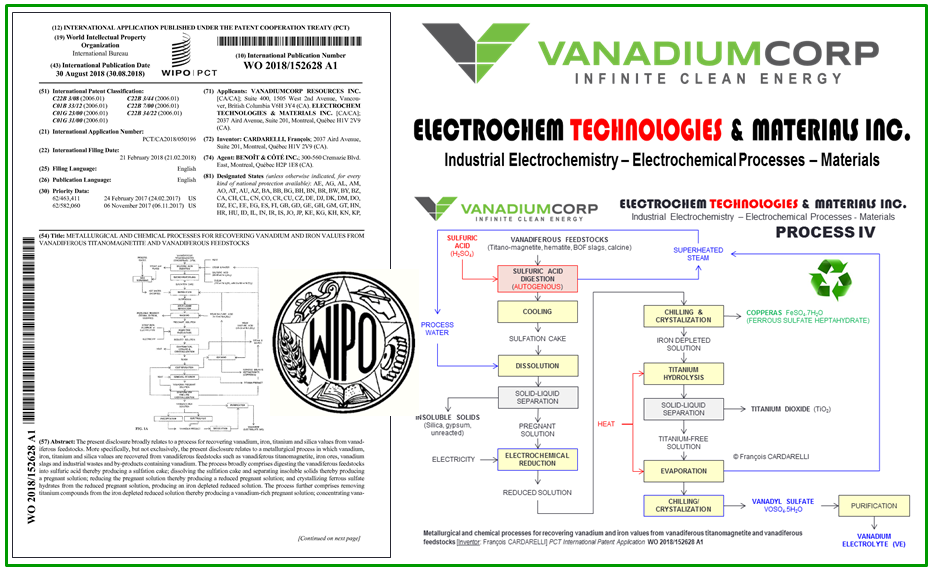 "Filing the National Phase Entry in Europe is the final and most significant milestone for VEPT essential to our developments in Europe that will integrate vanadium produced sustainably and directly into vanadium redox flow batteries to mitigate the cost and carbon footprint of energy storage." Stated Adriaan Bakker, CEO and President of VanadiumCorp.
"The National Entry Phase in Europe is a mandatory step towards commercialization of VanadiumCorp-Electrochem Processing Technology and compliments the recent validation and grant of our patented zero-carbon iron making process in the EU, successfully tested by our European customers, strengthens Electrochem's unique intellectual property position for implementing future integrated plants in that key jurisdiction." Stated Dr. Francois Cardarelli, President of Electrochem.
The jointly owned VEPT is a novel chemical process invented by Dr. Francois Cardarelli consists of digesting vanadiferous feedstocks into concentrated sulfuric acid. The technology addresses the recovery of vanadium pentoxide, vanadyl sulfate, ferrous sulfate, titanium hydrolysate, and silica from feedstocks such as vanadiferous titano-magnetite, iron ores and concentrates such as magnetite and hematite, vanadium industrial wastes such as BOF-slags, and other industrial by-products also containing vanadium.
Maximum Metal Recovery – Tri-Metal Recovery
Vanadium Electrochem Process Technology "VEPT" recovers over 95% of all three metals from titanomagnetite (The main global source of vanadium) vs. an average of 1% metal recovery achieved by current primary vanadium producers. With unique recovery of iron and titanium values, VanadiumCorp and Electrochem plan to commercially demonstrate vanadium as net-zero cost byproduct at 30 tonnes per feedstock batch nameplate capacity in 2018. The potential for commercial deployment would be highly beneficial for vanadium batteries as they are composed almost entirely of vanadium electrolyte currently derived from limited resources amenable to inefficient and polluting production methods. Most importantly, a commercial demonstration in an existing facility would circumvent the requirement for a conventional pilot plant strategy with the objective of industry validation, and significant reduction of risk, time, and capital.