In 2016, after a decade of vanadium resource development in Quebec, Canada, VanadiumCorp chose to explore innovative new approaches for processing to address the largest industry challenges and the global shortage of battery-grade vanadium. VanadiumCorp partnered with Electrochem Technologies & Materials Inc. and developed a chemical process method applicable for vanadium, iron, and titanium named the Vanadium Electrochem Process Technology "VEPT". Conventional steel and vanadium production methods have not changed in over 60 years. They are low yield, inefficient, and damaging to the environment – emitting over two tons of carbon for every ton of product. Francois Cardarelli, President, and Owner of Electrochem invented VEPT in a joint partnership with VanadiumCorp that has the potential to revolutionize energy storage, steel making, vanadium applications, iron production, titanium industries, and more. For energy storage this represents a green and efficient alternative to current polluting and inefficient methods of smelting and roasting and distinct advantage of direct recovery of vanadium into a solution for infinite utilization by vanadium redox flow batteries "VRFB".
Commercialization Strategy
Patent Option Agreement ("POA") Signed with Ultra Power Systems PTY Ltd.
Key aspects of the signed POA include the following terms with all financial considerations split evenly between VRB and Electrochem:
A fully executed agreement signed by all parties on November 23, 2018 with Ultra Power Systems PTY Ltd. ('Ultra") to purchase an exclusive license for VEPT in Australia.
Ultra plans to expedite the construction of the world's first dedicated vanadium processing facility.
Advantage of integrating low-cost sustainably produced vanadium electrolyte into vanadium redox batteries from virtually any source in a fraction of the time and capital requirements of current vanadium extraction processes.
USD $500,000 payment includes the exercise of the option.
Non-reimbursable down payment received upon signing the Patent Option Agreement.
6-month option to acquire the exclusive license of VEPT for the jurisdiction of Australia Territory.
Definitive license terms exercisable in the POA include a minimum annual payment, financing fees, and a gross royalty due upon production, applicable to all vanadium products, ferrous sulfate heptahydrate (copperas), titanium products and other by-products for a project duration of 25 years. Read the recent news release here…
Technology R&D, testing of global feedstocks at Electrochem in Montreal, Canada
VanadiumCorp's current mandate is to circumvent conventional piloting as it is not mandatory for commercial demonstration of VEPT. The Company is targeting a commercial demonstration test in an existing 20,000 tpa capacity digester/reactor within a global processing facility. The test would require a minimum of 20-30 tonnes of feedstock with a preference of vanadiferous titanomagnetite "magnetite" "VTM".
VanadiumCorp is also in discussions with several companies interested in licensing options for VEPT in several global jurisdictions. The default strategy for licensing and deployment is to expand current capacity with the current VEPT semi pilot capacity of 300kg/month nameplate in Boucherville, Montreal at Electrochem Technologies & Materials Inc.
Benefits of  building a VEPT facility with potential 200,000 tpa throughput capacity
Strong technology partner with experience in commercializing new technologies
Clean technology and mining-friendly jurisdiction
Utilization of inexpensive and clean hydropower in Quebec, Canada
Government incentives such as grants and subsidies for clean energy technologies
Off the shelf equipment for VEPT
Modular Design of VEPT
Scalable to market or supply technology
Maximum recovery of three metals (V, Fe, Ti) from multiple single-source feedstocks
Access to available feedstocks by many companies and sources
DSM (Direct Ship Magnetite) potential in Canada (Lac Dore Complex and Bell River Complex)
High-grade vanadium bearing fly ash waste compatible with VEPT
Federal mandate to support innovation and commercialization of clean energy technologies
Partnerships with government and NGO's
Strong community support for clean energy solutions and potential and related employment opportunities
Strong investment support from existing stakeholders and clean energy market
Primary Vanadium producers are unable to recover and monetize the highest grade iron and titanium. Vanadium is never found unbound in nature. Some minerals containing vanadium include vanadinite, carnotite, and magnetite. The majority of vanadium production comes from magnetite.
Historic Vanadium prices are erratic and control the economics of the existing vanadium producers utilizing smelting and roasting methods (negative for vanadium-based energy storage and other applications).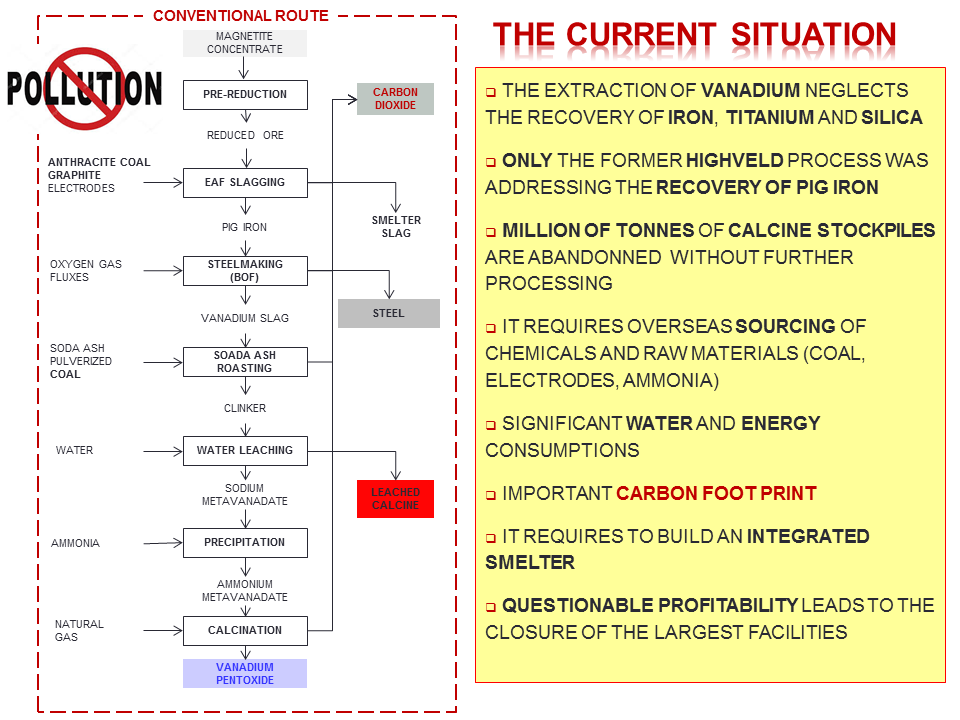 Challenges
To extract vanadium while also recovering and monetizing all the iron, titanium and silica values
To be applicable to a plethora of vanadiferous feedstocks in order to mitigate the sourcing
To utilize affordable and available chemicals
To rely on a nearby source of chemicals and raw material to reduce transporation costs
To limit both water and energy consumptions
To minimize the carbon foot print
To use existing industrial equipment
To implement a cost affordable and proven technologies
To facilitate a rapid commercial deployment
To become highly profitable after commissioning by monetizing all metal values
Pilot Testing
The pilot testing of the process was performed inside Electrochem's facilities using the VEPT custom build 60-liter digester vessel with a nameplate processing capacity of 300 kg per month of titano-magnetite .
Prototype and semi-pilot campaigns with magnetite completed
Recovery of vanadium, copperas, titania and silica
Sulfuric acid consumption close to stoichiometry
Reduced water consumption
Recovery of iron values as pure ferrous sulfate heptahydrate (copperas)
Recovery of vanadium either as vanadyl sulfate, vanadium chemicals or vanadium pentoxide
Benchmarking of other vanadiferous feedstocks (BOF slags, residues, by-products)
Preliminary costs and benefit analysis – CONFIDENTIAL
Comparison with Alkaline Roasting