VanadiumCorp-Electrochem Process Technology "VEPT"
Directly recovers vanadium in solution as vanadyl sulfate (vanadium electrolyte precursor) with maximum value of all contained metals from single source feedstocks and wastes with the option to integrate with the world's only demonstrated carbon free method of high purity iron production. (Electrolytic iron) Electrochem's patented Electrowinning technology can replace conventional iron and steelmaking utilizing half the conventional energy and featuring a negligible carbon footprint. The feedstocks compatible with VEPT include, vanadiferous titanomagnetite "VTM" "magnetite", hematite, ilmenite, steel slags, oil industry fly ash waste and calcine (the waste from primary vanadium producers containing 99% of their lost iron and titanium units) 
Back Story:
In 2016, after a decade of vanadium resource development in Quebec, Canada, VanadiumCorp chose to explore innovative new approaches for processing to address the largest industry challenges and the global shortage of battery grade vanadium. VanadiumCorp partnered with Electrochem Technologies & Materials Inc. and developed a chemical process method applicable for vanadium, iron and titanium. Conventional steel and vanadium production methods have not changed in over 60 years. They are low yield, inefficient and damaging to the environment – emitting over two tons of carbon for every ton of product. Francois Cardarelli, President and Owner of Electrochem invented VEPT in joint partnership with VanadiumCorp that has the potential to revolutionize energy storage, steel making, vanadium applications, iron production, titanium industries and more. For energy storage this represents a green and efficient alternative to current polluting and inefficient methods of smelting and roasting and distinct advantage of direct recovery of vanadium into solution for infinite utilization by vanadium redox flow batteries. "VRFB"
PATENT PENDING PROCESS FOR RECOVERING VANADIUM, IRON & TITANIUM VALUES FROM VANADIFEROUS FEEDSTOCKS
( 50% VanadiumCorp Resource Inc. – 50% Electrochem Technologies & Materials Inc. )
This novel chemical process also called " VanadiumCorp-Electrochem Processing Technology (VEPT). The process further comprises removing a solution by the solution of the solution. The further concentration by evaporation and then a sequence of chilling and crystallization yields vanadium sulfate pentahydrate to be purified and used as precursor for the preparation of vanadium electrolyte (VE) for vanadium redox flow batteries (VRFB).
The process invented by Francois CARDARELLI and entitled METALLURGICAL AND CHEMICAL PROCESSES FOR RECOVERING VANADIUM AND IRON VALVES FROM VANADIFEROUS TITANOMAGNETICS AND VANADIFEROUS FEEDSTOCKS was published originally under the PCT International Patent Application WO 2018/152628 (A1 )
BACKGROUND & CURRENT SITUATION
THE EXTRACTION OF VANADIUM NEGLECTS THE RECOVERY OF IRON, TITANIUM AND SILICA DURING SODA ASH ROASTING
ONLY THE FORMER HIGHVELD PROCESS WAS ADDRESSING THE RECOVERY OF IRON AS PIG IRON VALUES
MILLION OF TONNES OF CALCINE STOCKPILES BY-PRODUCED FROM SODA ASH ROASTING ARE ABANDONED WITHOUT ANY ATTEMPT TO FURTHER PROCESSING THEM
IT REQUIRES THE SOURCING OF CHEMICALS AND RAW MATERIALS (COAL, ELECTRODES, SODA ASH, AMMONIA) OVERSEAS THAT IMPACT THE PRODUCTION COST
SIGNIFICANT WATER AND ENERGY CONSUMPTIONS
IMPORTANT CARBON FOOT PRINT DUE TO THE COMBUSTION TAKING PLACE INSIDE THE ROTARY KILN
THE HIGHVELD APPROACH REQUIREMENTS TO BUILD AN INTEGRATED SMELTER REQUIRING MAJOR CAPITAL INVESTMENT
QUESTIONABLE PROFITABILITY LEADS TO THE CLOSURE OF THE LARGEST FACILITIES WORLDWIDE
PROCÉDÉ DE RÉCUPÉRATION DU VANADIUM ET DES VALEURS DE FER ET DE TITANE À PARTIR DE TITANO-MAGNÉTITE
(50% VanadiumCorp Resources Inc. – 50% Electrochem Technologies & Materiaux Inc.)
Ce nouveau procédé chimique "VanadiumCorp-Electrochem Processing Technology (VEPT)" permet de récupérer les valeurs du vanadium, du fer, du titane et de la silice à partir d'une multitude de matières vanadifères telles que la titanomagnétite vanadifère, les minerais de fer et leurs concentrés: comme la magnétite et l'hématite, les déchets industriels. Le procédé consiste à digérer les matieres vanadifères dans l'acide sulfurique concentré grâce à la réaction de sulfatation qui est exothermique et qui permet de fonctionner de manière quasi autogène tout en produisant un gâteau de sulfatation. La dissolution du gâteau de sulfatation après séparation des solides insolubles donne une solution mere concentrée. Après réduction électrochimique de la solution, la liqueur est ensuite réduite et enfin soumise à une réfrigération suivit d'une cristallisation pour produirer des cristaux de copperas (sulfate ferreux heptahydrate) et produit une solution appauvrie en fer. Le procédé comprend en outre l'élimination du titane par hydrolyse à partir de la solution appauvrie en fer, produisant ainsi une solution enrichie en vanadium. La concentration ultérieure par évaporation, puis une séquence de refroidissement et de cristallisation donnent le sulfate de vanadyle qui reste à purifier pour préparer divers produits chimiques derives du vanadium ou comme précurseur pour la préparation de l'electrolyte pour les batteries redox (VRFB).
Le procédé a été inventé par François CARDARELLI et porte la dénomination METALLURGICAL AND CHEMICAL PROCESSES FOR RECOVERING VANADIUM AND IRON VALVES FROM VANADIFEROUS TITANOMAGNETITE AND VANADIFEROUS FEEDSTOCKS dont l'application internationale PCT WO 2018/152628 (A1)
FONDEMENTS & SITUATION ACTUELLE
L'extraction du vanadium néglige la récupération du fer, du titane et de la silice lors du grillage alcalin
Seulement le procède HIGHVELD produisait de la fonte afin de valoriser le fer et de fournir un acier de haute qualité
Des quantités énormes de rejets issue du grillage alcalin sont entreposées sans aucun effort de recyclage
La production de vanadium nécessite l'approvisionnement outremer en produits et matières premières (charbon, électrodes, ammoniac, soude) ce qui influence le coût de production
Consommations très importantes en eau et en énergie
Empreinte carbone significative du a la combustion dans les fours rotatifs
L'approche sidérurgique nécessite la construction d'une fonderie qui requiert des investissements tres importants
Profitabilité restreinte ayant entrainée la fermeture de plusieurs usines à travers le monde.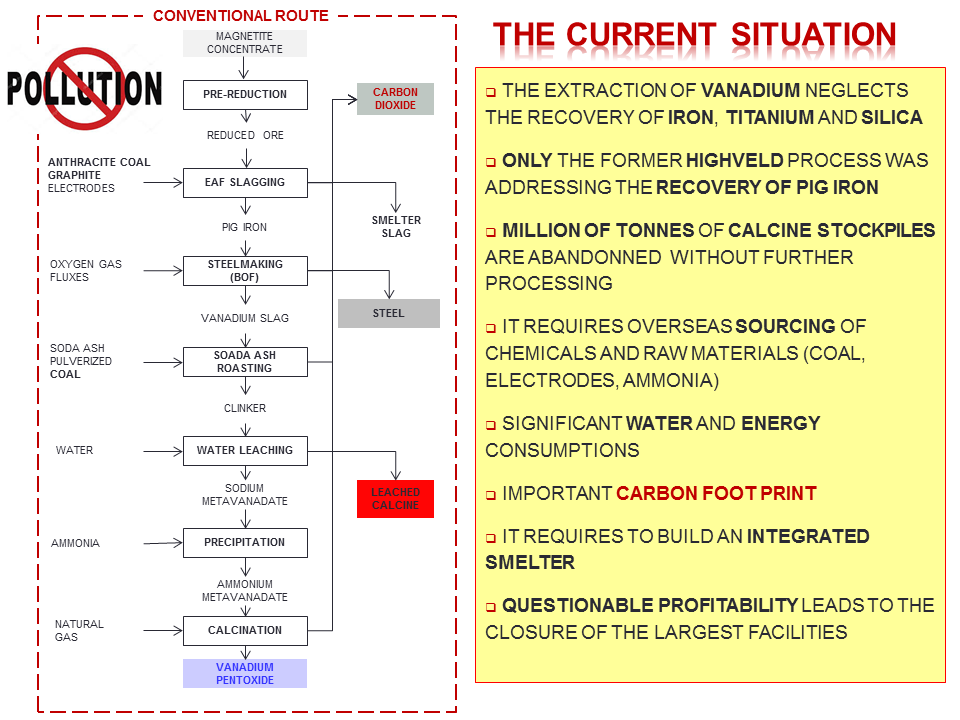 UNSUSTAINABLE: THE LARGEST VANADIUM PRODUCER SHUTDOWN IN 2017 (HIGHVELD FACILITY IN SOUTH AFRICA PICTURED ABOVE)
PRIMARY VANADIUM PRODUCERS ARE UNABLE TO RECOVER AND MONETIZE THE HIGH GRADE IRON AND TITANIUM. VANADIUM OCCURS WITH IN PREDOMINENTLY IN NATURE (TITANO-MAGNETITE)
HISTORIC VANADIUM PRICES ARE ERRATIC AND CONTROL THE ECONOMICS OF THE EXISTING VANADIUM PRODUCERS UTILIZING SMELTING AND ROASTING METHODS (NEGATIVE FOR VANADIUM BASED ENERGY STORAGE AND OTHER APPLICATIONS)
CHALLENGES
To extract vanadium while also recovering and monetizing all the iron, titanium and silica values
To be applicable to a plethora of vanadiferous feedstocks in order to mitigate the sourcing
To utilize affordable and available chemicals
To rely on a nearby source of chemicals and raw material to reduce transporation costs
To limit both water and energy consumptions
To minimize the carbon foot print
To use existing industrial equipment
To implement a cost affordable and proven technologies
To allow the seamless vertical integration with ELECTROCHEM TECHNOLOGIES & MATERIALS INC. patented electrowinning process
To facilitate a rapid commercial deployment
To become highly profitable after commissioning by monetizing all metal values
LES DEFIS
Extraire tout le vanadium mais aussi l'ensemble des valeurs de fer, le titane et de silice
Doit être applicable à de nombreuses autres sources de vanadium afin de sécuriser l'approvisionnement
Doit reposer sur l'utilisation de produits chimiques peu dispendieux et disponibles
Accès à une source locale pour ces produits afin de minimiser l'impact des coûts de transport
Réduire drastiquement la consommation d'eau et d'énergie
Minimiser l'empreinte carbone
Utiliser des infrastructures et des équipements industriels existants
Technologie abordable et prouvée.
Doit permettre l'intégration verticale avec la technologie électrochimique brevetée d'ÉLECTROCHEM TECHNOLOGIES & MATÉRIAUX INC.
Facile et rapide à implémenter
Doit être très profitable rapidement après le demarrage tout en valorisant tous les métaux
PILOT TESTING – ESSAIS PILOTE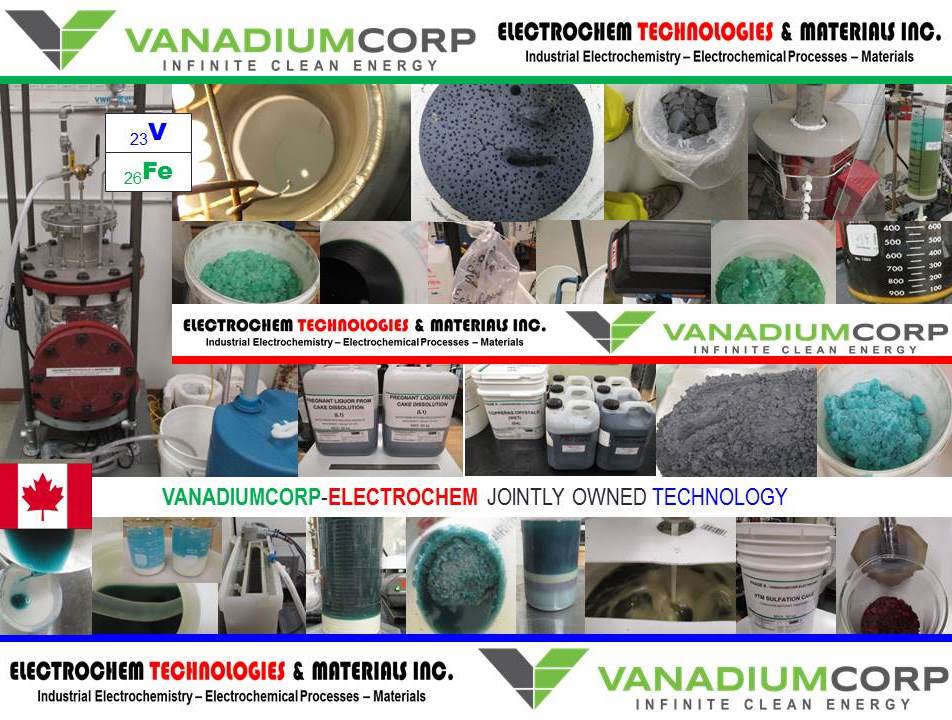 The pilot testing of the process was performed inside Electrochem's facilities using the VEPT custom build 60-liter digester vessel with a nameplate processing capacity of 300 kg per month of titano-magnetite .
Prototype and semi-pilot campaigns with magnetite completed
Recovery of vanadium, copperas, titania and silica
Sulfuric acid consumption close to stoichiometry
Reduced water consumption
Recovery of iron values as pure ferrous sulfate heptahydrate (copperas)
Recovery of vanadium either as vanadyl sulfate, vanadium chemicals or vanadium pentoxide
Benchmarking of other vanadiferous feedstocks (BOF slags, residues, by-products)
Preliminary costs and benefit analysis – CONFIDENTIAL
Les essais pilotes du procédé ont été réalisés dans les installations d'Electrochem à l'aide du digesteur VEPT de 60 litres, construit sur mesure, d'une capacité de traitement nominale de 300 kg par mois de titano-magnétite.
Campagnes prototypes and semi-pilotes sur la magnétite et autres complétées
Récupération du vanadium, du fer, du titane et de la silice
Consommation d'acide sulfurique proche de la stœchiométrie
Consommation d'eau réduite au minimum requis
Récupération du fer sous forme de sulfate de fer heptahydrate (copperas)
Récupération du vanadium: sulfate de vanadyle, pentoxyde de vanadium, et produits de vanadium
Évaluation des autres sources de vanadium (laitiers sidérurgiques, scories, résidus, sous-produits)
Analyse technico-économique préliminaire – CONFIDENTIEL
COMPARISON WITH ALKALINE ROASTING – COMPARAISON AVEC LE GRILLAGE ALCALIN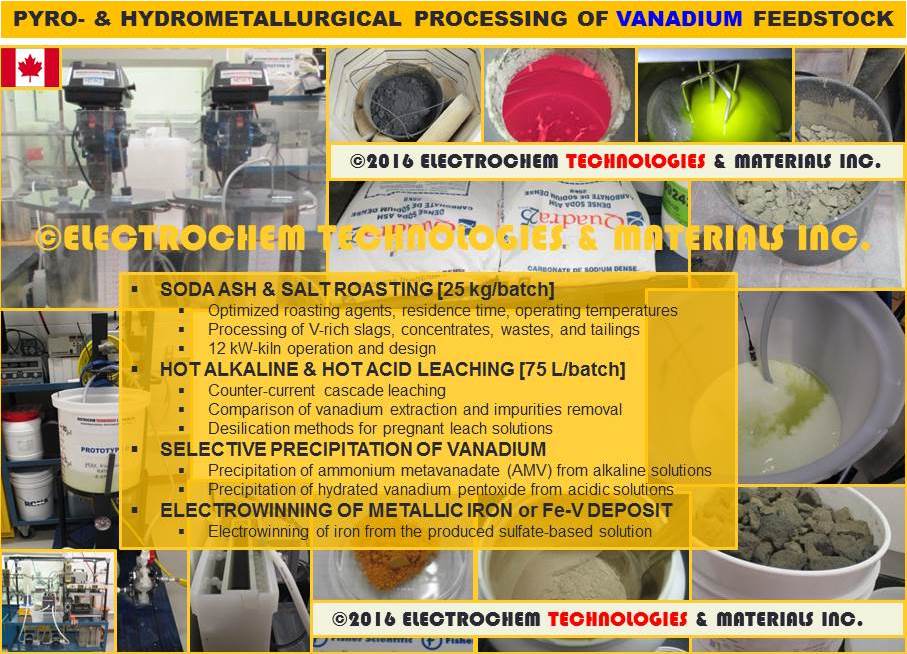 Electrochem also performed in 2016 the conventional processing of vanadium rich feedstocks from various origins including vanadium-rich slag, vanadiferous titanomagnetite, and vanadium-rich residues using the conventional approach used in the vanadium industry. Electrochem Technologies & Materials Inc. was selected because our strong know-how in molten salts and high temperature alkaline and caustic processing capabilities. The campaign consisted first to perform the pyrometallurgical treatment of 25-kg batches of raw materials by caustic fusion, soda ash roasting, alkaline roasting and salt roasting using our 12-kW kiln. The roasted or sintered material underwent hydrometallurgical operation units such as alkaline and acid leaching using counter current cascade leaching reactors and producing 75 liters per batch of pregnant leach solution (PLS). Afterwards, vanadium was precipitated from the PLS either as ammonium metavanadate (NH4VO3) or hydrated vanadium pentoxide (V2O5.250H2O) or ammonium polyvanadate [(NH4)2V6O16].  This testwork allowed us to be able to identify the pitfalls and drawbacks of the conventional processing vs. the  new innovative and disruptive  VEPT processing.
Electrochem a également joué en 2016 le traitement conventionnel de matières premières riches en vanadium d'origines diverses, notamment les scories riches en vanadium, la titanomagnétite vanadifère et les résidus riches en vanadium, selon l'approche classique utilisée dans l'industrie du vanadium. Electrochem Technologies & Materiaux Inc. a été choisi pour son savoir-faire en matière de sels fondus et ses capacités de traitement alcalin et caustique à haute température. La campagne a d'abord consisté à effectuer le traitement pyrométallurgique de lots de 25 kg de matières premières par fusion caustique, grillage alcalin, grillage avec des sels, à l'aide de notre four de 12 kW. Le matériau grillé ou fritté a été soumis à des opérations unitaires hydrométallurgique telles que la lixiviation alcaline et acide, à l'aide de réacteurs de lixiviation en cascade à contre-courant et produisant 75 litres par lot de solution de lixiviation en suspension (PLS). Ensuite, le vanadium a été précipité sous forme de métavanadate d'ammonium (NH4VO3) ou de pentoxyde de vanadium hydraté (V2O5.250H2O) ou de polyvanadate d'ammonium [(NH4)2V6O16].  Ce test nous a permis d'identifier les pièges et les inconvénients du traitement conventionnel par rapport au nouveau procede innovant VEPT.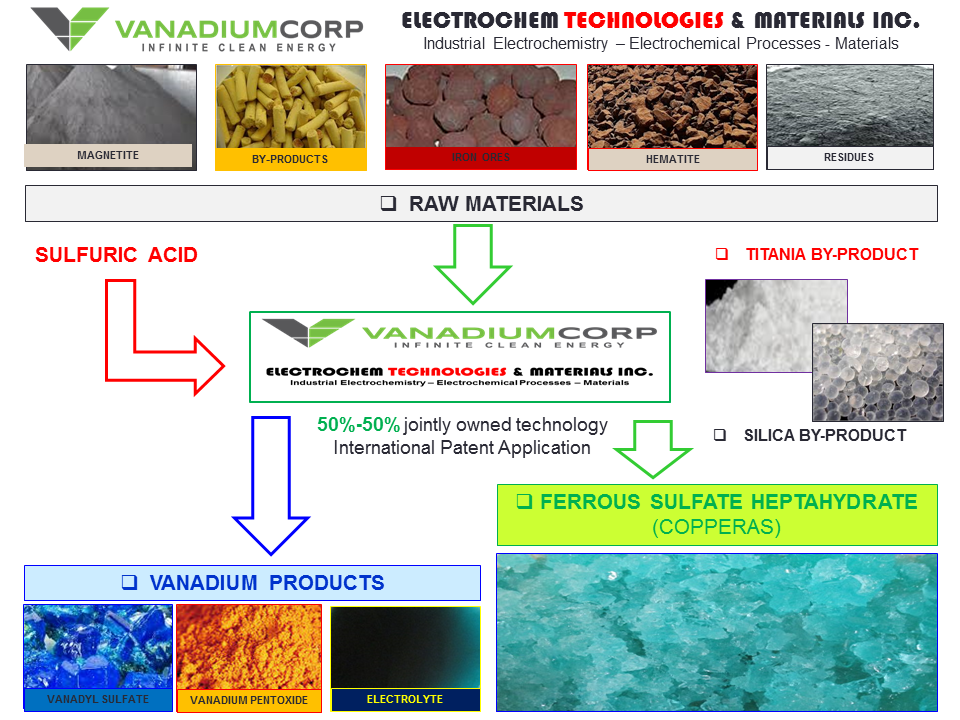 PERFORMANCES
PERFORMANCES
SULFURIC ACID DIGESTION IS QUASI-AUTOGENOUS
LOW SULFURIC ACID CONSUMPTION CLOSE TO STOICHIOMETRY
LOW WATER CONSUMPTION WITH RECYCLING
NO SIDE REACTIONS
PRODUCTS
FERROUS SULFATE HEPTAHYDRATE
VANADYL SULFATE PENTAHYDRATE
TITANIUM DIOXIDE PRODUCT
SILICA
TECHNICAL BENEFITS
Usually 95% of the titano-magnetite goes into solution
It recovers vanadium, copperas, titanium and silica values
It relies on sulfuric acid which is readily available from nearby smelters especially in the Province of Quebec
The sulfation reaction of magnetite is exothermic thus it allows a quasi-autogenous operation without need to provide external heat during the digestion
The process exhibits both reduced water and energy consumptions
It uses digesters, crystallizers, centrifuges that are existing industrial equipment
The production of copperas allows the seamless vertical integration with ELECTROCHEM TECHNOLOGIES & MATERIALS INC. exclusive patented iron electrowinning process for jurisdictions having access to cheap electricity
Profitability is ensured because all the metal values are monetized while targeting a zero discharge approach
ENVIRONMENTAL BENEFITS
DISRUPTIVE PROCESS
LOW-CARBON FOOT-PRINT
REDUCED NUMBER OF CHEMICALS INVOLVED
LOW WATER CONSUMPTION
LOW ENERGY CONSUMPTION
ROBUST AND EFFICIENT PROCESS
APPLICABLE TO VARIOUS FEEDS (CONCENTRATES, BY-PRODUCTS, SLAGS, RESIDUES, WASTES)
HIGH EFFICIENCIES & ELEVATE RECOVERY YIELDS
WIDE OPERATING SPAN
SUSTAINABLE TECHNOLOGY
RECYCLING OF VARIOUS STREAMS
REDUCES WASTES VOLUMES
SMALL FOOT-PRINT
HIGH EFFICIENCY
COST BENEFIT ANALYSIS
COMMERCIAL DEPLOYMENT
EXISTING INDUSTRIAL DIGESTERS
MODULAR DESIGN
BROWNFIELD IMPLEMENTATION
RAPID EXPANSION
COMPETITIVE ADVANTAGE FROM ELECTROCHEM
MATERIALS SELECTION
PILOT TESTING & TRAINING OF STAFF AT ELECTROCHEM
EXCLUSIVE TECHNICAL SUPPORT ON-SITE AT ELECTROCHEM
LES PERFORMANCES
PERFORMANCES
LA DIGESTION EST QUASI-AUTOGENE
LA CONSOMMATION D'ACIDE EST PROCHE DE LA STOICHIOMETRIE
PRODUCTION HORAIRE ELEVÉE
PAS DE RÉACTIONS PARASITES
PRODUITS
SULFATE FERREUX HEPTAHYDRATE (COPPERAS)
SULFATE DE VANADYLE
PRODUIT DE DIOXYDE DE TITANE
SILICE
LES AVANTAGES TECHNOLOGIQUES
Courament 95% de la titano- magnétite passe totalement en solution
Il permet la récupération des valeurs de vanadium, de fer, de titane et de silice
Le procédé repose sur l'utilisation de l'acide sulfurique qui est largement disponible depuis des fonderies ceci etant particulierement le cas au Québec
La réaction de sulfatation de la magnétite est exothermique et permet ainsi d'opérer de manière quasi-autogène sans apport d'énergie exterieure durant la digestion
Les consommations d'eau et d'énergie sans trouve donc réduites
Le procédé repose sur l'utilisation de digesteurs, de cristallisoirs, de centrifugeuses qui sont des équipements industriels connus et existants
La production de copperas permet l'intégration verticale avec la technologie électrochimique brevetée d'ÉLECTROCHEM TECHNOLOGIES & MATÉRIAUX INC.
La profitabilité est assurée car tous les métaux sont valorisés et les effluents reduit au stricte minimum
LES AVANTAGES ENVIRONNEMENTAUX
PROCÉDÉ VERT ET INNOVANT
FAIBLE EMPREINTE CARBONE
NOMBRES DE PRODUITS CHIMIQUES REDUITS
FAIBLE CONSOMMATION D'EAU
FAIBLE CONSOMMATION D'ENERGIE
TECHNOLOGIE ROBUSTE ET EFFICACE
APPLICABLE À DE NOMBREUSES MATIIÈRES PREMIÈRES (CONCENTRES, RESIDUS, SOUS-PRODUITS, DECHETS)
TAUX DE RÉCUPÉRATION & RENDEMENTS ÉLEVÉS
LARGE DOMAINE D'OPÉRATION
TECHNOLOGIE PROPRE
RECYCLAGE DES INTRANTS
RÉDUCTION DU VOLUME DES DÉCHETS
FAIBLE ENCOMBREMENT AU SOL
HAUTE EFFICACITE
COUTS ET BÉNÉFICES
DÉPLOYEMENT COMMERCIAL
DIGESTEURS DISPONIBLES COMMERCIALEMENT
CONCEPTION MODULAIRE
INSTALLATION SUR SITE PRÉ-EXISTANT
AGRANDISSEMENT RAPIDE
AVANTAGES COMPÉTITIFS OFFERT PAR ELECTROCHEM
SELECTIONS DES MATERIAUX
ESSAI DE PILOTES ET FORMATION DE PERSONNEL À L'ÉLECTROCHM
SUPPORT TECHNIQUE EXCLUSIF SUR SITE
INTELLECTUAL PROPERTY RIGHTS – LA PROPRIÉTÉ INTELLECTUELLE
VanadiumCorp Resource Inc. and Electrochem Technologies & Materials Inc. own each 50% of the exclusive rights for the patented pending technology worldwide.
VanadiumCorp Resource Inc et Electrochem Technologies & Materiaux Inc. détiennent chacune 50% des droits exclusifs pour le monde entier de la nouvelle technologie.