In 2016, after a decade of vanadium resource development in Quebec, Canada, VanadiumCorp chose to explore innovative new approaches for processing to address the largest industry challenges and the global shortage of battery grade vanadium. VanadiumCorp partnered with Electrochem Technologies & Materials Inc. and developed a chemical process method applicable for vanadium, iron and titanium. Conventional steel and vanadium production methods have not changed in over 60 years. They are low yield, inefficient and damaging to the environment – emitting over two tons of carbon for every ton of product. Francois Cardarelli, President and Owner of Electrochem invented VEPT in joint partnership with VanadiumCorp that has the potential to revolutionize energy storage, steel making, vanadium applications, iron production, titanium industries and more. For energy storage this represents a green and efficient alternative to current polluting and inefficient methods of smelting and roasting and distinct advantage of direct recovery of vanadium into solution for infinite utilization by vanadium redox flow batteries. "VRFB"
Primary Vanadium producers are unable to recover and monetize the hight grade ireon and titanium. Vanadium is never found unbound in nature. Some minerals containing vanadium include vanadinite, carnotite, and magnetite. The majority of vanadium production comes from magnetite.
Historic Vanadium prices are erratic and control the economics of the existing vanadium producers utilizing smelting and roasting methods (negative for vanadium based energy storage and other applications).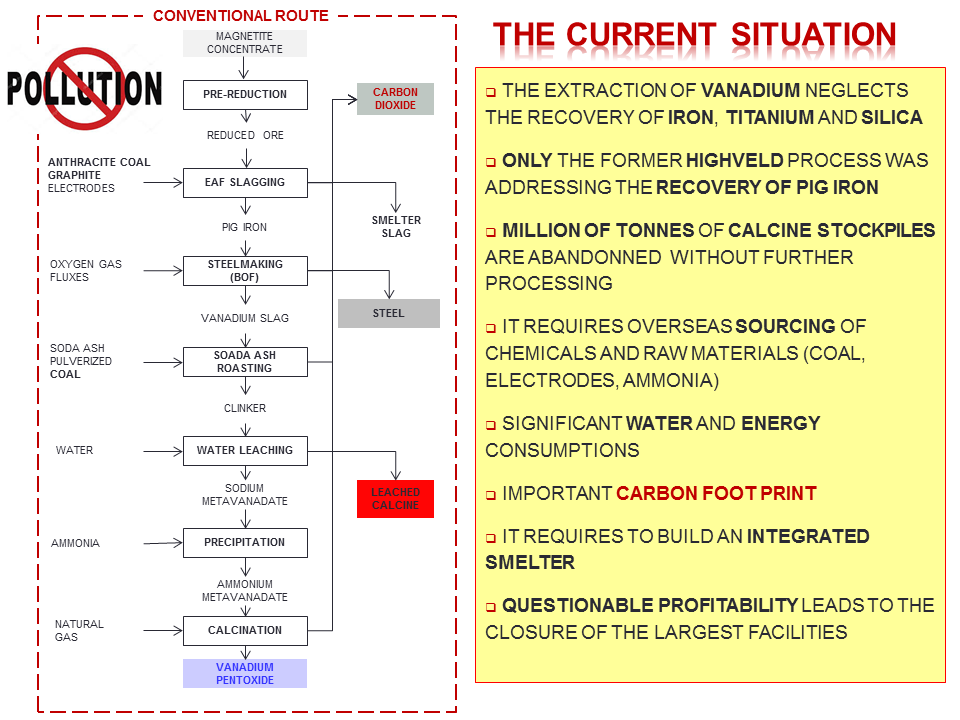 Challenges
To extract vanadium while also recovering and monetizing all the iron, titanium and silica values
To be applicable to a plethora of vanadiferous feedstocks in order to mitigate the sourcing
To utilize affordable and available chemicals
To rely on a nearby source of chemicals and raw material to reduce transporation costs
To limit both water and energy consumptions
To minimize the carbon foot print
To use existing industrial equipment
To implement a cost affordable and proven technologies
To facilitate a rapid commercial deployment
To become highly profitable after commissioning by monetizing all metal values
Pilot Testing
The pilot testing of the process was performed inside Electrochem's facilities using the VEPT custom build 60-liter digester vessel with a nameplate processing capacity of 300 kg per month of titano-magnetite .
Prototype and semi-pilot campaigns with magnetite completed
Recovery of vanadium, copperas, titania and silica
Sulfuric acid consumption close to stoichiometry
Reduced water consumption
Recovery of iron values as pure ferrous sulfate heptahydrate (copperas)
Recovery of vanadium either as vanadyl sulfate, vanadium chemicals or vanadium pentoxide
Benchmarking of other vanadiferous feedstocks (BOF slags, residues, by-products)
Preliminary costs and benefit analysis – CONFIDENTIAL
Comparison with Alkaline Roasting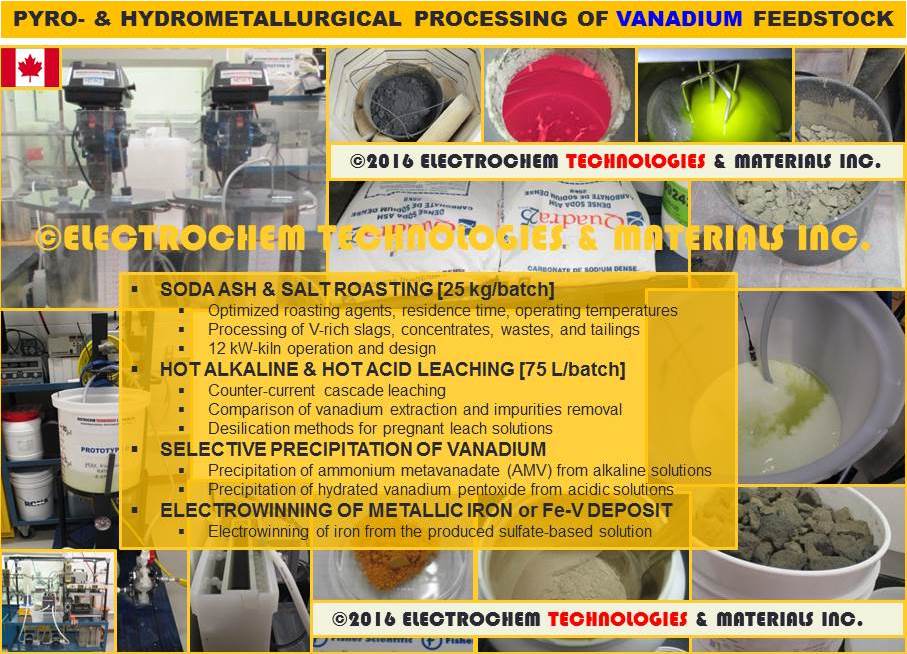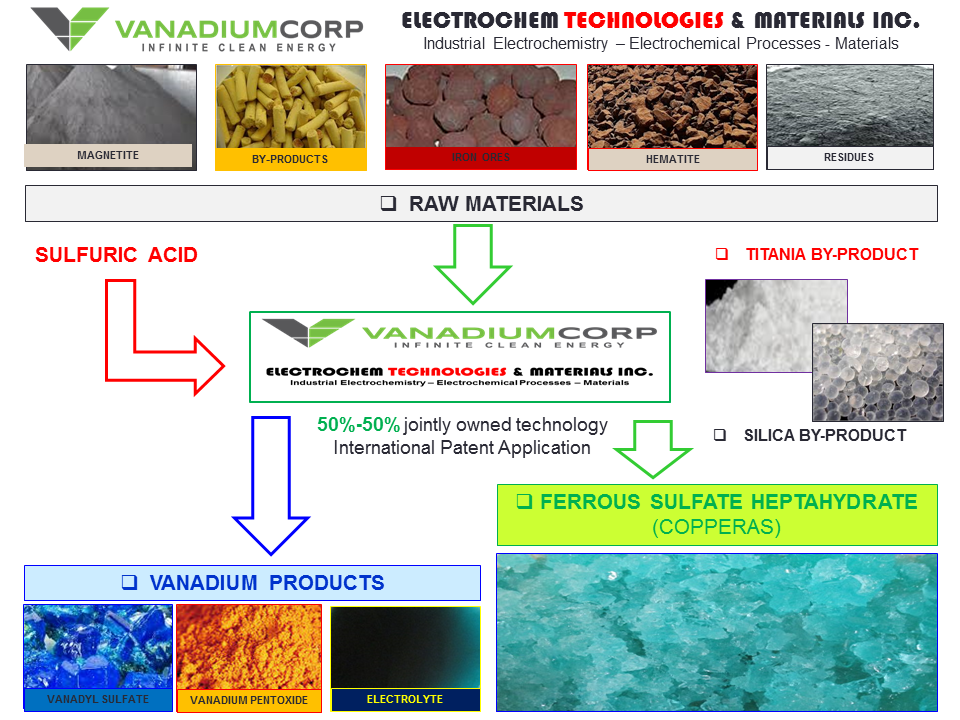 Intellectual Property Rights
VanadiumCorp Resource Inc. and Electrochem Technologies & Materials Inc. own each 50% of the exclusive rights for the patented pending technology worldwide.